Gartner's Magic Quadrant for Enterprise Mobility Management has four providers in the Leader's Quadrant. IBM's MaaS360 and VMWare's AirWatch are two of the most widely used Enterprise Mobility Management Platforms. In our experience, these two platforms are the ones we get the most requests for information as of late.
Ability to Execute and Completeness of Vision drive the position of these Enterprise Mobility Management platforms within the quadrant. The four leaders for 2017 were AirWatch, IBM, MobileIron, and BlackBerry. We'll be looking at the differentiators between AirWatch vs MaaS360.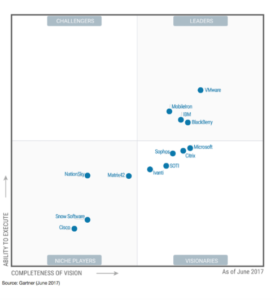 The major differentiators come by way of IBM's ability to develop and integrate the platform with its other security platforms like BigFix which Gartner calls, "one of the most feature rich client management solutions". More importantly, MaaS360 provides a completed development container that securely separates business from data. In addition, MaaS360 works across all platforms including laptop and desktop environments. IBM makes it really easy to implement a secure BYOD environment and integrates with all platforms including iOS with much greater control than AirWatch can provide on the operating system. Read more here.
Some folks reading this article may not be as tech savvy but are still involved with the decision making process when it comes to budgeting for security. We try to make the process easier by translating the various languages that exist within the various departments of various companies. When it comes to BYOD and Security everyone is in agreement that we need more security without losing the ability to do things like work remotely, use your personal iPad, get emails and check Salesforce on the go. It just makes us more efficient. It also makes us more vulnerable. Is your Mobile Device Management making you vulnerable?
Back to IBM vs AirWatch, they're both great solutions and we could write novels… better yet whole epochs on the differences and how that applies to your environment.  MobileIron is also a solid platform worth consideration as are many of the platforms in Gartner's Magic Quadrant. IBM's solution is simply more comprehensive.
It works on many more platforms and can be expanded and layered into IBM's greater security management platform that includes Intrusion Detection and Prevention, firewall, and a host of security services from a company whose technology has proven the test of time. IBM has been a leader in the tech space for eons and for good reason. Their Artificial Intelligence platform is improving daily and this all improves their ability to provide a robust solution.
MaaS360 is simple and affordable while maximizing security and scalability. Integration into existing infrastructure is seamless… even if you're running Vista! Users can proactively monitor for compliance, auto-quarantine newly discovered devices on the network for a more secure implicit deny strategy, and implement data leak prevention. With MaaS360 you'll be able to automatically remediate mobile security risks. You can even get a thirty-day free trial by clicking here.