The CenturyLink Control Center was recently "upgraded" yet users aren't feeling the love. CenturyLink has some great products like Fiber+ but they've grown so fast that there is a lack of customer service. That said, if your internet speed is awesome but your billing sucks, how happy is your customer?
It Looks Good: 
The new CenturyLink Control Center is sleek and slick looking with a great aesthetic. Big icons and bright colors provide the illusion of an updated, user-friendly experience. Unfortunately for users, it's much more complex and less functional. You can't even log in and view your bill, so what's the point?
Invoice Details:
Providing invoices without billing detail is simply rude. That said, you'll get the remittance page from the new CenturyLink Control Center and you can pay via credit card for an $8.95 fee.
Compatible Browsers CenturyLink Control Center:
If you want to see your invoice details, you'll have to request a PDF copy. They'll send an email notification when its ready, then you'll have to log back in to the CenturyLink Control Center and download your PDF. If you're using Microsoft Edge or Apple's Safari, you won't be able to download or view a PDF version of your invoice. You'll have to use Google Chrome or Firefox. That's right, CentruyLink either failed to beta test the application on these common browsers or simply decided to push the update regardless of the obvious flaws.
Interpreting Your Bill:
Hopefully, you'll speak telco well enough to interpret the bill. Line items with errors are the most difficult to read because they don't make sense. Any line item will have an address associated but doesn't provide simple detail that a customer would need like suite numbers. The CenturyLink Control Center is geared towards CenturyLink employee's and telecom professionals.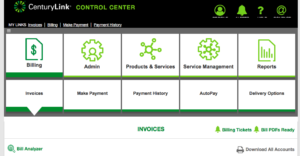 Account Changes in CenturyLink Control Center:
When it comes to moves, adds, or changes to your service you're more prone to encounter billing errors. The back end systems at CenturyLink have been the same since the days of US West prior to the Qwest acquisition. It really hasn't changed and that leads to multiple billing errors. There is an internal disconnect between the team that manages equipment and those that manage circuits. The teams that manage circuits operate in their own inside plant and outside plant silos. Sales and Order Entry also have different goals which increases the likelihood of billing errors. This is why CloudOgre specializes in Telecom Expense Management.
At the end of the day, CenturyLink is still a Tier 1 provider and some of their pricing is very competitive. The new CenturyLink Control Center doesn't allow for things like real time bandwidth utilization reports or network security monitoring. So, the CenturyLink Control Center was made with CenturyLink in mind and not the customer. It's difficult to use, clunky, pretty browser specific, and doesn't provide the information that a System Admin, IT Director, IT Manager, or Network Admin would want to see. Contact us if you need help managing your CenturyLink account.
If you're a Spectrum Business customer your billing platform is even worse. Only former Bright House Networks customers can view and pay their bill online at this time. Click here to learn more.