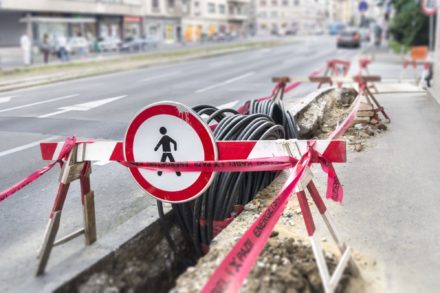 It's easy to get angry with a carrier while you're waiting to have fiber built out to your office. Fiber optic construction is very complex. You easily spent a full work week gathering quotes, going over the details with sales engineers, beating them up on pricing, and making a decision. Now you're in limbo land and every day without answers makes you feel more and more neglected.
Some carriers are better than others with communicating the details of installs with customers. Give us a shout here and we'll walk you through your best options. Below are the top 5 things to consider for your fiber optic build out.
Permits and Rights of Way
Proximity to existing splice points
Landlords
Type of Build – Aerial or Terrestrial/Boring required
Geographic barriers
Permits and Rights of Way – Permits can make or break your build out. No work is being done without a permit so your carrier will need a good relationship with your local municipality. Moratoriums/Embargos on streets during holidays will halt your project. Here is a link to near future embargos in NYC
Proximity to existing splice points – Closer fiber builds are always advantageous as less equipment and manpower need be deployed. It's tough to get the KMZ files from carriers without an NDA or a strong relationship. Let us know if you need help by contacting us here.
Landlords – Landlords can delay the process and some landlords are easier to negotiate common space for carrier equipment and riser access to extend the service. If the customer is also the building owner it can really streamline the process by cutting out a crucial step. Unfortunately, carriers have a harder time justifying a build out to a customer that is not in a multi-tenant office building because there is less future upside from additional customers.
Type of Build – Aerial or Terrestrial/Boring required – These factors are out of the control of the carrier but it's awful not to be in the loop on your project. You'll want to know if your build out will be aerial or terrestrial. Most builds outside of a city are composed of both. Having to do directional boring will cost time and money. In the city, every street has its own regulation and some may allow for a micro-cut while others require a complete street repave. Obviously the latter is more time consuming.
Geographic barriers – Whether train tracks, lakes, mountains, protected streets lined with cobblestones, other construction projects, or a host of other unfortunate events these circumstances can keep your fiber from being delivered. Geographic hurdles are not easy to overcome and keep many rural areas from having connectivity. In an urban environment it can be as simple as being too close to the UN or some other important building.
Why you'll continue to wait – Whether a UCaaS solution, a cloud based CRM, a growing workforce, VDI, or whatever, you'll need more bandwidth yesterday! Fiber Optic Ethernet has greater capacity, is far more scalable, and resists corrosion by weather. You'll want to plan around your build out and stay in close contact with your carrier. Keep in mind, being proactive is key to make sure your fiber optic build out stays on schedule. If you'd like help on a future project, give us a shout by clicking here